Our Staff Management

Brad Meyer Owner

Brad is the President of M&P and has been since the company originated in 1995. He studied Business and Horticulture at Maryville University and Meramec Community College. He played basketball at Maryville before being injured and studied briefly at Meramec while starting the company. As the company rapidly grew, Brad decided to dedicate all of his time to running M&P. As the president of M&P he oversees all business operations. He spends most of his time bidding work and meeting with customers. He is also a Certified Commercial Pesticide Applicator.

email: brad@mplandscapingstl.com

Doug Beckmann General Manager

Doug is the General Manager and has been with M&P since 2000. He graduated from UMSL with a Bachelors degree in Business Administration in 2000, where he also played baseball for 2 seasons. Doug assists in bidding, scheduling, quality management and provides bi-lingual supervision to all Spanish speaking employees. He is also a Certified Commercial Pesticide Applicator and helps Dave diagnose insect damage and turf diseases.

email: doug@mplandscapingstl.com
Staff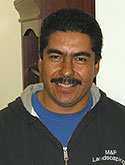 Manuel Vargas
Manuel has lived in the St. Louis area for nine years. He has been an employee of M&P the whole time he has been in St. Louis. He has lived in the U.S. since 1986 and received amnesty in 1988. Manuel grew up in Mexico City and from there moved to California. He has also lived in Mississippi. Over the course of the past nine years, Manny has become a critical piece to the M&P puzzle. Along with overseeing four grass cutting crews, Manny assists in the H2B seasonal worker program process.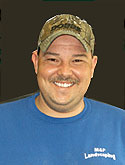 Sal Palermo
Sal has been the Head Mechanic and Shop Supervisor at M&P for seven years. Sal is a certified mechanic and is very skilled at welding and other types of fabrication. He can repair anything from a small two stroke motor to a truck motor and anything in between. He obtained his Modern Underhood Systems Technology Certificate Level I in May of 1999 and Level II in July of 2000. He has also taken A/C Delco classes for Air conditioning systems, Basic and Advanced Automotive Electrical Systems, Steering/Suspension, and Runability Diagnosis.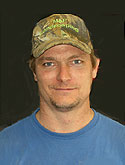 Dave Pfoutz
Dave has been with M&P for three years and currently supervises our Turf Maintenance Division. Dave is a licensed Commercial Pesticide Application Technician and coordinates applications with the schedule of the cutting crews. Prior to joining M&P, Dave graduated from Ranken Technical College with an Associate of Technology in Automotive Maintenance Technology Degree in February of 2000. While he attended, he made the Presidents list for a 4.0 GPA in 5 out of 6 terms. Dave also served in the Marines from 1991-1995. During his service, Dave lived in Japan and the Philippines.

Fran Meyer
Fran is the mother of Brad Meyer and the original M&P secretary/accountant. She was instrumental in the early years of M&P, not only as an employee, but as a business advisor. Fran graduated from Southwest Missouri State University in 1971 with a Bachelor's Degree in Secretarial Science Education. She is now a retired school teacher and still works part time for M&P.

Roland Meyer
Roland is the father of Brad Meyer and Brad's greatest business advisor. Roland is a 50% owner of Meyer Landscaping and Common Cents Water Control. Brad learned landscaping and water control from working for his father during his childhood and teenage years. Roland was instrumental in getting M&P started. He helped Brad get his first loan, buy his first truck, and buy his first lawn mower. Some people consider us to be competitors, but we work together in many aspects. M&P cuts the grass for many Meyer Landscaping customers and we both refer work to each other. Roland graduated from Southwest Missouri State University in 1970 with a Bachelor's Degree in Marketing.

Ronald Meyer
Ronald is the uncle of Brad Meyer and is also Brad's business advisor. Ronald is Roland's twin brother and is also a 50% owner of Meyer Landscaping and Common Cents Water Control. Brad has learned a great deal from his uncle regarding plants and general landscaping. He stills calls his uncle on a regular basis to pick his brain. Ronald referred and still refers Brad many grass cutting accounts. He helped Brad buy his first brand new Ferris lawn mower and referred Brad his first large grass cutting accounts. Thirteen years later M&P stills uses Ferris lawn mowers and they still maintain some of those same large accounts. Ronald graduated from Southwest Missouri State University in 1970 with a Bachelor's Degree in Business Management.